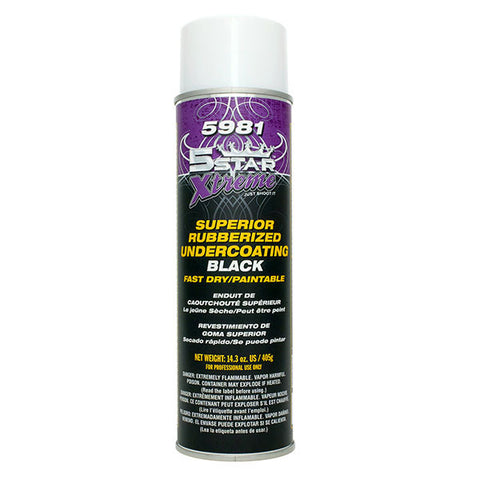 5Star 5981 Superior Rubberized Undercoating Black Aerosol
5981 Superior Rubberized Paintable Undercoating Black Aerosol - 14.3 oz.
A flexible, asphaltic coating which contains no asbestos fiber. It combines the flexibility and sealing properties of rubber, with superior coating capabilities. An effective textured coating that dries fast without thick peaks and thin pockets which tend to weaken the film and trap moisture. A durable protective coating that helps retard the effects of rust corrosion, moisture, fumes, dust, heat and cold. An excellent rust protective coating for autobody repair. Creates an effective sound barrier that reduces vibration and deadens sound in wheel wells, quarter panels, fenders, frames, under carriages, spot repairs and welded joints.
FIV 5981