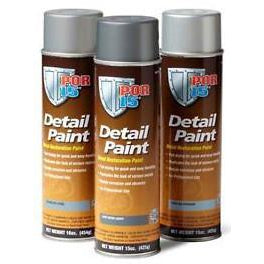 POR-15 Detail Paint
POR-15® Detail Paint is a professional grade aerosol applied coating that restores metal parts to their original appearance. POR-15® Detail Paint is a direct-to-metal coating designed to work incredibly well in all applications where there is a need to help preserve substrates and resist corrosion and abrasion while giving an renewed appearance that does not yellow. POR-15® Detail Paint provides excellent adhesion and when used over POR-15® RUST PREVENTIVE COATING works to provide a permanent barrier to corrosion.
POR-15® Detail Paint
- Available in 3 colors (Cast Iron, Aluminum & Stainless Steel)
Applications
For use over prepared metal surfaces:
Cylinder heads
Engine blocks
Water pumps
Industrial Interior / exterior
New construction
Repaints
Railings
Storage tanks
Machinery
Structural steel
Piping
Steel decking
Application Information
Surface must be clean, dry and free of oil and other contaminants before painting. Protect surrounding areas from spray mist. If being used to topcoat POR-15,spray while POR-15® is dry to the touch with slight finger drag, normally 2 – 6 hours. If POR- 15 has dried, wait 24 hours then lightly sand or scuff surface with pad or 320 sand paper. If scuffing or sanding is not desired, use POR-15 Self Etching Primer over cured POR-15® without sanding, then topcoat over the primer.
Shake can at least one minute before and occasionally during use.
Spray surface with steady, even strokes at a distance of 8 to 10 inches. Several light coats give a better finish than one heavy coat.