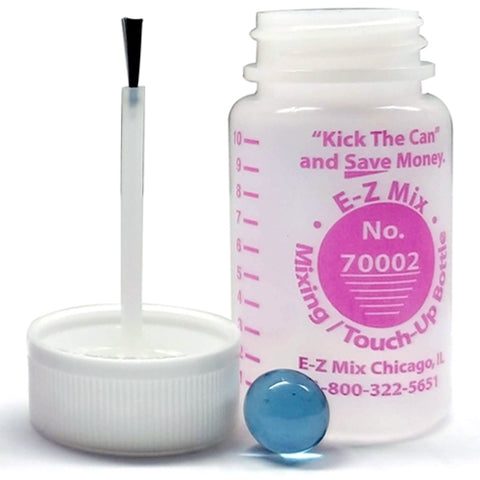 Touch-up Bottle 2 oz. E/Z Mix 70002
 E/Z Mix 70002 Touch-up Bottle 2 oz.
Got a scratch on your car that you want to fix yourself? Then pick up the E–Z Mix 2oz. Touch-Up Bottle and get started. To get rolling on touching up your car, here are a few steps that you must follow:
Find the correct paint color that matches your car and order it. Before beginning to paint, try it on another metal surface to see if the color matches well. Wait till it dries before you apply it on your car's surface.
Always ensure that you paint in a place where there is low humidity and not in direct sunlight.
You will need to prepare your car by cleaning the touch-up area thoroughly with grease, soap or wax. If the area has rust, ensure that you remove all traces with sandpaper or a wire brush.
If there is bare metal or plastic showing, cover with thin coats of primer. Leave it overnight and make sure that you never apply enamel primer.
Apply several thin layers of basecoat (this is your actual car paint color). Work on the layers till you get a perfect match with the adjoining car color. Leave it overnight to dry.
Apply thin layers of clearcoat to your paint and leave a drying window between paints. Make sure that you do not apply pressure while applying clearcoat, as it could remove the basecoat.
After three days, apply rubbing compounds to the area that you fixed to help bring out the shine and gloss.
Your touch-up looks as good as new.
How is this 2oz, bottle perfect for touch-ups?
The extra long brush is convenient for touch-ups
The graphics on the bottle makes sure that you mix accurately and has ratios for 2, 3 and 4 stage applications
The material of the bottle is made of shatterproof plastic
The bottle fits most air brush guns